Last Updated:
January 24th, 2023
Are you battling an addiction, but are unsure of what treatment plan is right for you? With relapse rates for substance abuse disorders ranging between 40 – 60%, finding an effective rehab programme is vital to your success. But deciding between inpatient and outpatient treatment can be a confusing process – struggling with an addiction is already hard enough, without the overwhelming task of finding the right plan for your needs.
Primrose Lodge recognises that the barrage of information online can often be confusing, and we are here to make things a little easier.
Let's take a closer look at the differences between inpatient and outpatient rehab and the pros and cons of each.
What is inpatient treatment?
Inpatient treatment, also known as 'residential rehab', is a type of treatment programme where individuals stay in a rehab facility while receiving addiction support. The length of stay could range from two weeks to twelve weeks depending on the severity of the addiction in question.
Inpatient treatment offers a unique opportunity for individuals to overcome their addiction through an immersive environment that proactively works on both the causes and effects of substance abuse and co-occurring mental health issues, while providing 24-hour access to therapeutic care, assistance during detox and peer support. This setting encourages accountability which empowers individuals to stay on track with their recovery process.
What is outpatient treatment?
Outpatient treatment, also known as 'day rehab', allows you to continue living at home while undergoing addiction treatment. With rehab therapy scattered throughout the month and access to individual, family and group counselling options as part of their programme regimens, individuals can work towards sobriety without sacrificing other commitments such as childcare or employment responsibilities.
This is also a viable option for those who are in the beginnings of an addiction and want to nip it in the bud, or those who have completed inpatient rehab and would like extra support.
Inpatient vs outpatient: the pros and cons
Inpatient rehab treatment is often an effective form of addiction recovery as it provides individuals with the safe and secure environment necessary to focus on their recovery goals.
Some of the pros of inpatient treatment include:
You will have access to a holistic programme that tackles both the physical and psychological aspects of addiction

You will have access to supportive treatments designed to encourage a healthier way of living, for example, yoga, meditation, art therapy and gong baths.

You will have the opportunity to talk through any difficult moments with a therapist as and when required

The temptation for relapse is removed with inpatient rehab as you will be unable to access drugs or alcohol

Inpatient rehab is considered the most effective course of treatment so you are more likely to maintain sobriety in the long-run
Some of the cons of inpatient treatment include:
Inpatient rehab can be more expensive than outpatient rehab

The programme requires time away from home and work
Outpatient treatment is less intensive than inpatient treatment, but it can still offer many of the same therapeutic benefits.
Some of the pros of outpatient treatment include:
You will have access to therapy sessions at regular intervals

You will have the ability to keep up with your usual routine at home

Outpatient rehab can be less expensive than inpatient treatment
Some of the cons of outpatient treatment include:
You will be exposed to triggers and high temptations to relapse as substances are easily accessible

You may be unable to access support when you need it most

There is less structured supervision involved in outpatient treatment and fewer resources – this can offset low motivation levels
Do you have all the facts?
There are many misconceptions surrounding inpatient treatment – the all-too-common fear of the unknown can fuel these falsehoods and anxiety can soon take over.
For so many, these preconceived notions hold them back from getting the support they need, but we are here to settle the facts and help you to see through the fiction.
Myth: Inpatient rehab is unobtainable because of the costs associated with this treatment…
…Fact: While inpatient rehab is more expensive than alternative outpatient options, Primrose Lodge offers solutions to help you manage the costs. We offer a range of different treatment lengths and some insurance policies may also cover an inpatient rehab programme. It's true that inpatient treatment can make a temporary dent in your wallet, but when you compare this to a substance addiction over time, it is by far the more cost-effective solution.
Myth: I won't have any independence if I stay at an inpatient rehab centre…
…Fact: Inpatient rehab programmes work on a structured basis and you will be required to take part in a timetable of activities. This is intentionally designed, not to strip you of your independence, but to create a sense of motivation and purpose. Feelings of boredom and aimlessness are commonly linked with relapse, so having set tasks to complete each day will help you on your recovery journey. You will be able to form healthier habits, try out different hobbies and learn new things during your inpatient stay, as well as enjoy your own free time.
Myth: Inpatient treatment is too long – it takes up too much time…
…Fact: Recovering from addiction is not easy – it often requires a great deal of internal work, healing from past traumas and uncovering mental health issues. Understandably, this process does not happen overnight. Substance addiction is a life-long battle and treatment is therefore long and intensive. It takes time to overhaul those unhealthy patterns of behaviour and learn new ways of dealing with stress. This is necessary in both inpatient and outpatient treatment plans – in fact, outpatient treatment may take even longer because of its less intensive nature.
What does a typical day look like at Primrose Lodge's inpatient centre?
During your stay at Primrose Lodge, each day will begin with a healthy and nutritious breakfast, followed by therapy sessions, lectures and workshops. A group lunch will be provided and after this you will have the opportunity to take part in other holistic activities such as yoga, meditation, art therapy or sound therapy. You will have some free time in the evenings where you can enjoy playing board games, watching a movie or reading a book.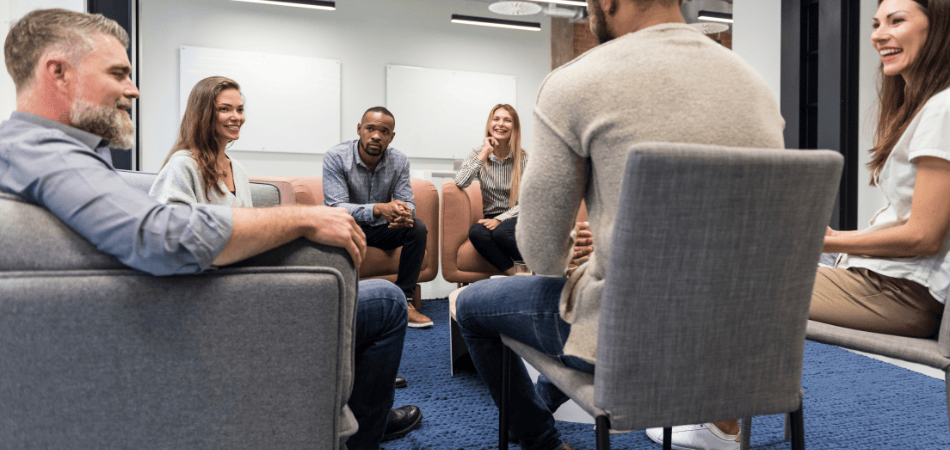 Is inpatient treatment the right decision for me?
It is important to remember that there is no one-size-fits-all solution for addiction recovery, but investing in rehab can be a powerful step in reclaiming your life. Rehab treatment – whether it is inpatient or outpatient – offers proven recovery tools that can help you break away from drugs or alcohol. If you are struggling with a severe substance abuse disorder, have a history of relapse or lack support from family and friends, inpatient treatment could prove highly beneficial.
You may be feeling hesitant or anxious about treatment, but the sooner you reach out, the sooner you will be able to enjoy life again. As our previous Primrose Lodge client, Ellen, says:
"Addiction affects everybody. I don't think anybody really knows the extent of the help that's there. Once you've made the decision [to get help] yourself you are met with massive relief."
What is the process for starting inpatient treatment at Primrose Lodge?
If you would like to get started and join our inpatient rehab programme, all you have to do is contact us. You will be medically assessed on the phone, and again by our doctor on arrival. This will determine the best course of action as you detox and begin your recovery journey.
If you have any questions about our rehab programmes or would like to speak to a member of our admissions team, we are here to help. Taking the first step and reaching out may feel daunting, but we are here to help get you started.
Frequently asked questions
What are the different types of outpatient treatment?
There are several different types of outpatient treatment programmes and these include:
Partial hospitalisation programme: this involves spending several hours each day at a rehab facility where you take part in a variety of therapies, group sessions and workshops before returning home in the evening.
Intensive outpatient programme: this involves attending individual or group therapy several times a week.
Support groups: this involves group work with a therapist every week.